the innovative emergency and safety barrier gate on the road
When blocking road lanes or tunnel tubes on highways, safety, traffic management and quick access are the highest priority! Every second counts in an emergency!

Kaufmann AG develops innovative solutions for safe and secure access on high-access roads according to these requires.

One of the solutions is the patented crash barrier emergency opening system barrier-gate, with which one opening passage can be created directly in a crash barrier for rescue vehicles such police, fire brigade, rescue vehicle or maintenance.

Due to this crash barrier emergency opening, rescue vehicles are able to get to the site quickly with blocked lanes or events in tunnel tubes. The time gained, which a crash rail emergency opening makes possible, can save lives.

barrier-gate, like the tested retention systems, was created with the required retention level and breakdown strength according to EN 1317 and tested with start-up tests.
barrier-gate can create an emergency opening power-free within less than 15 seconds in a retention system for maintenance, police, fire brigade and rescue vehicles. In principle, the crash barrier consists of a steel guide walls and can be connected to the continuing crash barriers of the existing retention system.

barrier-gate can optionally be automated as a power-free version so that the crash barriers can be controlled manually on site, by manual operation, by manual radio transmitter or remote controlled via a control centre. In the event of a power failure, the system can be open or closed manually within just a few seconds.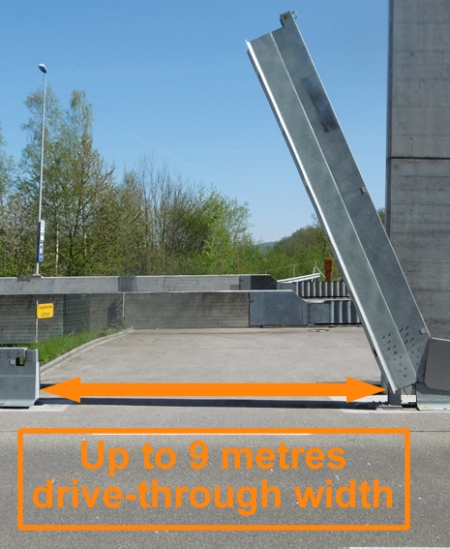 Your decisive advantages:
Power-free opening in less than 15 seconds
Power-free closing in less than 30 seconds
Is expandable with control via a control centre
The length is flexibly adjustable (up to 18m width)
A closed barrier is locked tension-free
The barrier is flush with a continuous crash guard
Various system types (12, 34, 52, 64, etc.)
Tested containment level according to a certified system
Compliant according to machine directives
Modular system with standard parts
Redundant components for increased fail safety
Functions maintenance-free (highly cost-effective)