the innovative movable crash barrier
When blocking road lanes or tunnel tubes on highways, safety, traffic management and quick access are the highest priority!

Kaufmann AG develops innovative solutions to manage traffic safely and in a controlled manner so that today's requirements for safety and also quick access for maintenance and emergency services are guaranteed at all time.

mobile-guard is a swivellable, certified crash barrier with a guaranteed containment level (return action according to EN 1317), which was especially designed for road segments with intensive usage.
Quick and safe lane diversion plays a role in ensuring the safety of those in traffic and can greatly reduce traffic jam times during construction work or accidents.

The extremely sturdy and reliable transfer systems mobile-guard of Kaufmann AG with a patented lowering lock be remote-controlled via a control centre or directly divert lanes within a short period of time, so that the traffic flow is ensured with a little interruption as possible.

mobile-guard makes it possible to divert traffic to the opposite direction or to guide vehicles back to a normal traffic pattern within a short period of time and without large traffic impediments. Here these mobile guidance systems do not require any additional actions, such as erecting guide beacons, guide cones or additional floor markings.

The standardised components of mobile-guard make it possible to change elements quickly and trouble-free. The total system can be adapted very flexibly to project-specific requirements like length, curve radius, number of lanes or slopes. The tested, fully automated locking mechanism is according to EN 1317 which is equipped with a patented, impact-resistant lowering mechanism as a termination. Those in traffic should therefore be protected from lateral and frontal collisions.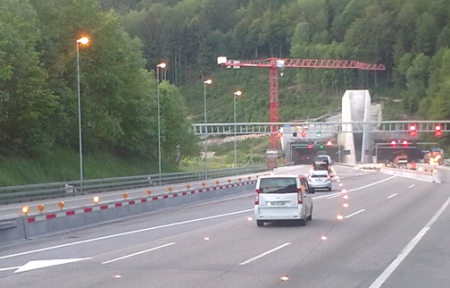 Your decisive advantages:
Fully-automated operation via a control centre
On-site operation via a touch screen
Power-free operation without other aids
Certified with a crash tests (according to EN 1317)
Safety category to H3 (according to EN 1317)
Compliant according to machine directives
Parameterised software depending on requirements
Flexibly adjustable (length, curve, slope, etc.)
Modular system with standard parts
Redundant components for increased fail safety
Impact-resistant tested lowering lock
Easy-service and easy-maintenance